Things to do in Eastbourne….
Eastbourne & Sussex attractions and activities
While you are enjoying a b&b or self catering stay at The Guesthouse East, why not take advantage of some of Eastbourne's many attractions and activities?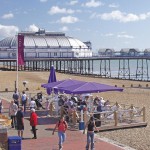 * Indulge in some fresh fish and chips, try Qualisea on Terminus Road or Harry Ramsden's – at the end of our road
* Take a stroll along the pier and listen to the sounds of the fine military bands at the bandstand – a real English treat
* Try some early morning fishing on the pier, in the summer you should catch mackerel and Carl will dress them for you at the guest house if you wish to eat fresh fish in the evening
* Hop on the open top bus to Beachy Head – or if you're feeling fit take a hike up Jubilee walk… either way expect breathtaking scenery while walking or cycling, but don't get too near the edge…
* Do the Dotto… the train takes you to the Waterfront, Sovereign Harbour, Europe's largest harbour. Stop off at Simply Italian for a cappuccino, or some pasta; try some Thai at Thai Marina; and for the family, there's the very popular Harvester. And if you fancy a trip, boat rides are organised at the waterfront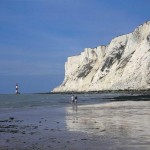 * Visit Belle Tout and the Seven Sisters in South Downs National Park for stunning cycling and walking.  Pop into the Seven Sisters Cycle Company at The Seven Sisters Country Park to hire some bikes.
* Try some rollerblading. You can hire skates from Wheely Good Fun, on the seafront, between the tennis courts & fisherman's green, call Fiona on 07971 564 677
* Shop at the Enterprise Centre, near the station, Eastbourne's answer to Covent Garden, or try fresh fish from our seafront fish monger. You'll find him just past the two mile mark on the seafront, opposite fisherman's green and the tennis courts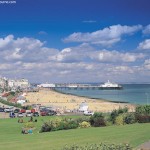 * Try out the theatre – find out what's on by looking at our notice board at the front door. There are four main theatres in Eastbourne, The Devonshire Park Theatre, The Congress Theatre, The Winter Garden, and The Royal Hippodrome
* Take the children for a fun day out…. There's plenty to keep the kids amused – Fort Fun on the seafront; the Sovereign Fun Swimming poolat the end of the seafront; the Miniature Railway Adenture Park; Go karting, and Drusilla's Park.
* Play a game of golf… The Royal Eastbourne Golf Club has a good combination of downland and parkland and with 27 holes (18 + 9) this course has everything for beginners through to pro's. Also nearby is Eastbourne Golfing Park, this nine hole course is the only one in the area to have a driving range (floodlit). Close at hand are: Eastbourne Downs Golf Club; Willingdon GolfClub, Seaford Head Golf Club; Cooden Beach Golf Club; Highwoods Golf Club, Bexhill on Sea; Wellshurst Golf and Country Club, Hailsham; Peacehaven Golf Club; Horam Park Golf Course, Heathfield; and, of course, East Sussex National Golf Club.
And if you fancy brushing up on your stroke while on holiday – why not visit the James Andrews School of Golf in Sedlescombe.
* Enjoy a tour of English vineyards and sample some of the locally-grown tipples, courtesy of English Vine Tours.
* Learn something new about our great past. East Sussex is rich in historical places to visit. 1066 country historic houses all with stories to tell. We're blessed with museums and towns such as Lewes and Rye are a daytrip away. Find out more at Sussex past.
* For day-trips, try Brighton for its cosmopolitan shops and cafes, and Bexhill for the fabulour De La Warr Pavillion – an easy direct train ride away (about half an hour)
* London is only an hour and a half on the (direct) train so a perfect opportunity for our international guests in particular to sample the capital delights
Pubs and restaurants we like
· For a special occasion, try The Mirabelle Restaurant at the Grand Hotel Eastbourne, booking essential, 01323 412345
· Our recent favourite, Thai House on Grove Road, 01323 646155
· Try pasta and pizza in a buzzy atmosphere at Picasso, Mark Lane, 01323 643433
· Family friendly and central (close to train station), try Prezzo, Upperton Road, 01323 722667
· Traditional pre-theatre Italian, Pomodoro e Mozzarella, 01323 733800
· Good old-school Chinese restaurant, Mr Hau's, 219 Terminus Road, 01323 638738
· Turkish tapas, Meze, Pevensey Road, 01323 731893

· And if you fancy a curry, eat in or takeaway, try the fabulous but pricey Ashoka 01323 733344
Pubs and Bars
· The Loft, Station Road, Eastbourne's answer to Brighton, champagne and cocktails and walking distance
· Hudsons, South Street, cozy leather sofas and coffee by day, a bustling wine bar at night
· Bibbendum, 1a Grange Road, 01323 735363, also have great food
· Maxims, South Street, 01323 721713, late night club, food and drink, good for 25+
· The Townhouse, Bolton Road, 01323 734900, young and lively – walking distance
· The Greenhouse, Mark Lane, off the beaten track, lively, younger
· The Ship, Meads Street, 733815, great food, nice garden, lovely big leather chairs, games, newspapers, BBQ in the summer
· The Lamb, Old Town, 17th Century, lovely for Sunday Lunch
· The Dolphin, a quintessential English pub, great for Sunday lunches, and walking distance
· The Tiger, East Dean, famous for good food and drink, lovely old pub, bring the children and they can play on the green while you enjoy a drink…
· And don't forget the seafront hotels are a great spot for a drink. We like the Cavendish Hotel, and for a bit more of a pricey, but classy drink, The Grand Hotel bar is lovely
Clubs
Our clubbing days are almost a thing of the past… although you will occasionally find us at Maxims for a late night drink
Try the following: Atlantis on the Pier ('it can kick off' we've been told, but seems to be popular); Kings Nightclub ; CoCo (nice part of town next to the Greenhouse bar); Maxims (bar/restaurant with small dancefloor downstairs)… Find out more in East Magazine.
If you discover a bar/ restaurant, or club that you like, let us know!