March 31, 2010
A long summer in Eastbourne
It's probably just as well I've been cranking up the fitness training (although even I got a little downbeat recently, caught in a storm up on Beachy Head, lost in the clouds and horizontal rain) – given the events lined up from now through to summer.
Both the Eastbourne Festival and Underwater, the new exhibition at the Towner, kick off this weekend, as does the Bandstand (really, who can actually resist the tribute bands??). And the old fishtail and loafers might be dragged out of the closet for next weekend's Lambretta South Downs Run.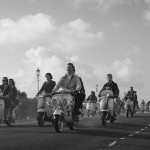 I'm a bit miffed, having to miss tonights performance from Mark Beaumont as The man who cycled the world at the Congress Theatre. Still, Wednesday means Running Night with The Running Inn, and given that everyone meets here at The Guesthouse East, I can't even sneakily miss a week.  Can I suggest safety in numbers? Join us from Hartington Place and I can hide behide you to avoid the galeforce winds tonight as we scamper up the seafront. I need to save my legs for the summer ahead.