April 24, 2010
Daniel Craig emerges at Eastbourne?!
One of the consequences of the inappropriately placed kayak (taking up half the lobby) at The Guesthouse East is that guests are keen to taste the adventures and who am I to discourage.
A swim wasn't technically on the agenda, but after Miles' predictably enthusiastic work with the paddle, he'd barely got 20 yards out before he capsized. Much to the delight of the gathered spectators.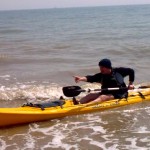 Still, he got the hang of things before hypothermia set in.
With temperatures rising and the sun set to shine all week, this might not be the last outing.
Ring Carl on 01323 722774 to book a suite for the bank holiday this coming weekend – although I can't promise Miles will be here (he is single if any ladies fancy some one-to-one kayak coaching….).