June 29, 2010
Need some thrills?
Look, strapping yourself to a baking tray with wheels and careering downhill with little potential for stopping (other than hitting thankfully soft spectators and somewhat less forgiving barricades) is great fun.
Participation in the forthcoming Eastbourne Extreme isn't mandatory. Indeed, watching other people risk life and limb can be just as rewarding and certainly less life-threatening.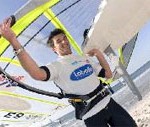 Eastbourne Extreme, 17th & 18th July this year, is officially the biggest free extreme sport festival in the UK, featuring a huge line up of air, land and water-based outdoor pursuits. The have-a-go sessions are mightily recommended!
Powerboating, zorbing, jet-skiing, land yachting, street surfing (what??), kite surfing are all on tap, as is a climbing wall and a knockhatch ski ramp. I did say it was quite a line-up. That's without mentioning the Battle of the Bands or the surf shack bar.
If you need accommodation in Eastbourne you'll have to be quick to snap up our last remaining suite for the dates, so give Carl or Sarah a call now on 01323 722774. The double suite costs £90 per night over the Saturday and Sunday. Self catering or B&B is available. Bandages and Germalene aren't.