July 26, 2010
Snorkling, snuffling and sunshine all the way
The kayak has looked rather forlorn in the lobby recently following the latest family addition and the inevitable lack of opportunity to hit the water in Eastbourne. Two guests here took pity on it and gave it a run-out thankfully, facing the wrath of the lifeguards and launching in the no-go swimming-only zone, the little devils.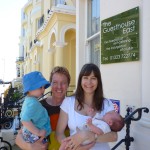 Having limited time for fun has meant new fitness tactics – snorkelling. Sadly my inept swimming has already led to a near miss by the groynes and an embarrassing beaching episode but at least it entertains the sunbathers.
We can be grateful the constant sunshine of the last few weeks has warmed up the sea a little. Not that the stream of family and friends have been tempted.  The beach-side cafe has some sort of magnetic hold.
If you fancy a stay at our boutique B&B in Eastbourne give us a call on 01323 722774 or check out the suites here