October 21, 2010
There's no place like home
Sometimes it takes a trip away to fully appreciate what you have. Even when your destination happens to be a prestigious hotel in the beautiful Dovedale in the Derbyshire Peak District. As a full blown outdoor devotee, I can recognise and savour dramatic peaks and ruggedness as much as the next man (many thanks btw to the delightful newlyweds and friends who provided the backdrop, band and pinot noir – a wonderful occasion x).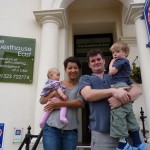 With a family to return to, not to mention kayak, fishing rod and accommodating sea bass, my right foot was decidedly heavy on the accelerator returning south down the M1 on Sunday morning.
Whenever I stay in another hotel my eyes are inevitably drawn to a dusty shelf in the bedroom or taste buds sensitive to over-salted scrambled eggs.
Perhaps I should simply remain in situ here at The Guesthouse East, if not for hyper-critical hotelier eyes or withdrawal symptoms from Beachy Head but for the threat of being usurped as the host with the most – most recently by friends Ruth and Miles (above) last weekend who helped out, delivering hospitality, childcare and culinary offerings to frankly unparalleled levels.