January 22, 2011
Brighton Rock helps puts Eastbourne on the map
It seems like yonks since the filming took place for Brighton Rock (here in Eastbourne last Winter) but momentum behind the forthcoming release is building nicely, with an article in the Telegraph magazine recently.
The new adaptation of Graham Greene's 1938 novel features a heavyweight cast including Helen Mirren as Ida, the tearoom proprietress, John Hurt, the late Pete Postlethwaite, Andrea Riseborough and Sam Riley, best known for his portayal of Ian Curtis in Contol, the 2007 biopic about the band Joy Division.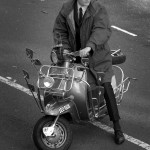 Tim Fox Evans, our friend and photographer, took some wonderful shots of the filming from one of our suites here at The Guesthouse East and on the Eastbourne seafront, which I've held back until the promotional work has started.
This interpretation is directed by Rowen Joffe who went back to the original novel and has been able to 'put back some of the darker and more perverse violence and sensuality that the book is shot through with', according to the Telegraph interview. Can't wait….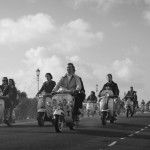 Eastbourne was home for much of the shooting – the retained period features and old school pier were the perfect backdrop (with Brighton simply too busy and modernised).
I can't wait for the release and the chance to see this director's perspective of both the novel and setting.