January 19, 2011
Gang shenanigans
It's taken a couple of days to recover from the sleep deprivation and liver damage but I can now bask in the memories from the weekend – when we were taken over for a group holiday and a 40th birthday celebration.
The combination of group travel and accommodation may well cause some to break out in a cold sweat (psychological scarring from ski chalets circa 1990, perhaps?) but thankfully we were able to offer enough space, autonomy and flexibility to keep everyone happy, particularly the birthday boy who seemed to revel in the dual roles of head chef for 16 (great Eton mess!) and games host (Who wants to be a millionnaire will never be the same again…).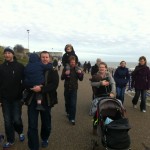 Thankfully the bracing walk along the prom on the Sunday morning cleared the heads and allowed the toddlers to run riot.
If you're looking for accommodation for a friends and family break you might want to give us a thought – free reign over a large kitchen and dining room, 7 lovely suites sleeping up to 18 and the beach at the end of the road. Job done. Just don't tell the guys the organising was so easy.