January 24, 2011
Reckon you're up for it? Eastbourne sportsravaganza hitting town
I think I'm reasonably fit. My pasty chicken legs go vaguely whizzy when on two wheels and have been known to break into an occasional canter when confronted with hilly green bits, but even I had to gulp when considering the sporting opportunities hitting Eastbourne this year.
The 2011 Beachy Head marathon takes place on October 22 and will provide arguably the most scenic 26-miler of the year and certainly the most gruelling.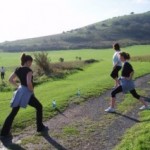 We're always full of runners and their families for the marathon weekend, drawn to our Eastbourne self catering and B&B accommodation by our sporting heritage and carbo-loading breakfasts, but even aware of the inevitable comeraderie over porridge in the dining room and the reviving hands of the masseur we offer our guests here, I just can't quite find the dedication to fill in the application form.
I regularly run some of the course, with the finale a death-defying vertical mudslide onto the Eastbourne side of Beachy Head. I was amazed at the finish of last year's event to see how everyone bombs down in a fit of enthusiasm over exhaustion. Whilst I simply look to tentatively traverse across in survival mode. The last time I tried anything resembling a  stright line down I hit a wet patch, over-compensated and went head-first into a roll, retrieving my composure with a commando roll straight back onto 2 feet and away again in a joyous vision of fluidity, to a gentle round of appause from the cafe at the base of the hill.
If challenging yourself amongst spectactular scenery is what makes you tick you might also want to consider Endurancelife. Their Coastal Trail Series showcases some of the most exhilarating sections of the UK coastline with the toughest trail running series on offer. The eighth leg, Sussex, takes place around Beachy Head and Birling gap on March 26 this year, with 10k, half- and full marathons available, but irrespective of length expect an undulating route, with expansive views and an unforgetable experience.
If two wheels are more your bag why not take a look at the Eastbourne Cyclosportive, taking place on May 22, with entry now open for three routes.
The Cyclosportive is part of the Eastbourne Cycling Festival, a weekend of cycling events based on the seafront. It won't be all lycra and inappropriate shorts – family rides will also be available as well as the time trials and road racing.
So, some pretty hardcore action on offer. Stay at The Guesthouse East and get prepared – on a Wednesday night enjoy the regular running club night with The Running Inn (as well as this red-faced ginger author) or perhaps a Friday night Circuits session with (Iron) Mike Ovens – let's not hear any excuses about not being ready for it…..