April 14, 2011
Monkeys and meerkats
Had a zoo-tastic afternoon with our own little monkey yesterday, exploring the newly-expanded Drusillas Park at Alfriston.  Just a 25 minute drive from here in Eastbourne, this unusual and exciting theme park is packed with enough animals and activities to keep any budding explorer busy for hours.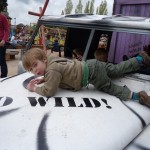 There's too much to tell all, but a few highlights for our boy included clambering through a tunnel to peek through a pop-up window in the meerkat enclosure, trying to stand on one leg like the flamingos, driving a safari jeep, whizzing down giant slides in the awesome adventure park and… of course… Thomas the Tank Engine.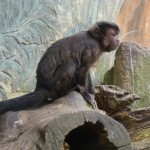 For us parents, the highlight was probably the delicious hot donuts that we sneakily ate from the Thomas the Tank Engine station cafe – and how our son slept for 13 hours last night as a result of his busy day!