August 8, 2011
Bouncing babes, Bishops and a bride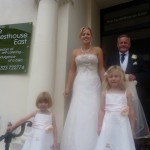 OK it sounds like we have had a really strange set of visitors…. but it was all in the name of love!  The delightful Bishop family took over The Guesthouse East last weekend as they were attending the wedding of daughter Elena in East Dean.
Our Grade II listed building was filled with the pitter patter of children's feet as Elena's lovely nieces and nephew got ready for the big day.  And while the adults primped and preened, groomed and glossed getting ready for the ceremony, the little ones had a great time working off a bit of steam on the trampoline in our back garden before they had to get into their finery.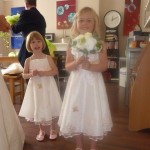 We even got a few days off cooking breakfasts as dad David is a dab hand at a full English and took over our kitchen for the weekend, whipping up delights for his family.  Are you sure you don't want a job here?!
Sarah
"You really did manage to make it easy for the group to prepare for the day as everything one could possibly want was made readily available. Each room is equipped with ironing station for decreasing squashed garments and there is plenty of room to hang them out.  Extra personal items were loaned to the baby and each bedroom was made comfortable for each family. I'm  grateful that, all those months ago,  Carl suggested I make a temporary booking of the whole hotel as he immediately understood my desires for the weekend. Thank you Carl and Sarah very much indeed." Susan Bishop