August 25, 2011
Half way to the Good Life at The Guesthouse East
So we're not exactly at Tom and Barbara levels of self-sufficiency just yet but the parallels of a mid-life crisis and a quest to avoid the rat-race are pretty clear.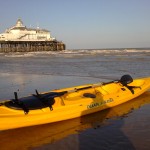 We've just polished off my kayak-caught sea bass (pan-fried fillets with a delicious oriental sauce) rounded off with a homemade pie of local apples and blackberries picked on Beachy Head a few hours ago. Hmm, maybe I now need a vineyard to provide a decent glass of red?
Having a bed and breakfast in Eastbourne is pretty relentless (despite what my friends reckon – 'No, really, what do you do to fill your day?') but there are certainly perks to be had. Many of them end up in my tum.
The council vetoed my plan for solar-generated electricity – Grade II-listing can be very appealing but not when it comes to negotiating the minefield of council planning committees – and (thankfully) my wife provides the pragmatic balance that Barbara Good would have been proud of when it comes to weeding out the various 'business ideas' I hatch.
Still, we're a long way from our previous life in Teddington and the corporate world so occasionally the odd plan comes to fruition.
We have a regular stream of guests who recognise the quality of life that Eastbourne can provide and are searching for a holiday home or indeed are eyeing up a similar leap towards a simpler life away from London.
We're always very open to a chat about the realities of life on the Sunshine Coast and can also give some honest feedback on local areas to consider so feel free to call us up or book yourself in for a break to sample the delights on offer. Those blackberries really are very juicy…
Carl