August 1, 2011
Michael Jackson is alive in Eastbourne! (and so is Elvis…)
I wouldn't have believed it if I hadn't seen them with my own eyes, but arguably the two biggest stars of all time ARE alive and well – and rocking it in Eastbourne!
A week last Friday, as I was meandering up the seafront promenade trying to get my tired, irate one-year-old to sleep in her pram, I literally almost collided with The King.  Tall, pouty, glossy black hair and oozing coolness, I felt myself go weak at the knees…  Although maybe that's because my three-year-old had chosen that moment to jump on my back and shout 'giddeeeup mummy!'.
Sadly duty called with late-night check ins and I couldn't make it to the concert that night, but as the Eastbourne Bandstand is literally on our doorstep, we only had to open doors and windows for the rock 'n' roll fever to spread through The Guesthouse East.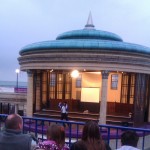 This weekend there was no chance I was going to miss out when I heard my childhood crush – Michael Jackson – was performing in town.  With my equally-fanatical friend by my side, I bopped and sang in delight to 'Beat It', 'Billie Jean' and a host of other classics – including some Jackson 5 favourites.
OK, so we did really know that these were tribute acts, but does it hurt to dream a little?  And they look soooo much like the real thing.  In fact, a little too much like them for their own good it seems.  One of Michael Jackson's backing dancers was staying with us at The Guesthouse East and explained that their whole tour is cloaked in secrecy, with even the dancers only finding out where they are going on departure.  Apparently fake 'Michaels' have been targeted by stalkers in the past…   I'm saying nothing.
Sarah