October 3, 2011
Eastbourne is known as the Sunshine Coast for good reason!
It's October. I'm wearing shorts.  Not below the knee, could-be-three-quarter-length pants, these are officially short shorts.
Unlike my husband Carl, who pretty much wears shorts exclusively from February to November (and who once wore shorts and flip flops on a boat trip to visit a glaciar in Patagonia), I only get my bottle-white pins out if it's really, really warm – if there's even a hint of a breeze, I feel cold.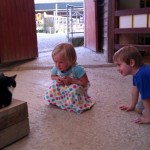 This Indian summer is fabulous for parents of pre-schoolers – like me – who want to take little ones for days out.  Now that the big kids are back at school, there are no queues or trampling of babes.  And there are also some fabulous special offers out there if you're looking for things to do in Eastbourne or fancy heading to the coast for a few days.
It was my son Rafael's 4th birthday last week, and we headed off to Blackberry Farm for animal feeding, tractor rides, bouncing and sliding with sister Lexi and a few friends.  Not only was there glorious sunshine all day, but it turned out that in term time on Tuesdays and Thursdays, for every paying adult, you get a child in free – bargain! So in effect I got that scrummy chocolate brownie and flat white coffee for free!
We have all sorts of ideas if you'd like to hear of more family-friendly activities around Sussex – just ask. We've have two years to practice with ours while running our bed and breakfast in Eastbourne so have built up a fabulous list of options.
Who knows, if this weather continues I might even have to pass on my flanelette pyjamas. Now that would be just plain silly.
Sarah