November 21, 2011
A life on the edge as an Eastbourne hotelier. Literally.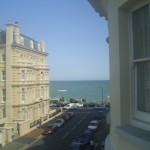 The wife didn't appreciate my attempt at reassurance. Apparently being told we were fully paid up with the life assurance wasn't the authoritative response required to her safety questions.
The ledge outside our top floor suite is at least two feet wide and the moss isn't too slippery at this time of year so despite being 50 feet up in the air it didn't feel too precarious when I was out there painting today. Not when I could cling by my fingertips to the window frame and almost reach where I needed to paint. Besides, it made me feel like a freeclimber, but without the abs of steel and perma-tan.  And at least you get to see a nice view of where I was on our blog.
Yes, mid-November and the inevitable slackening in custom brings many opportunities to hoteliers who scoff at exorbitant quotes for simply re-painting the building exterior.
Perhaps I should busy myself with an Evening with Peter Aliss at the Congress Theatre tomorrow or check out the Southern Youth Ballet's forthcoming production of the Nutcracker.
My fitness would would certainly be improved by another run up to Beachy Head and back and, well, I might even feed the family if I take advantage of the ongoing mild temperatures and lightening winds and head out for a fish off the kayak.
But I fear that by mid-morning tomorrow onlookers will again be rubber-necking in disbelief at my middle-aged madness. I can only hope that before you next cross our threshold you raise your stare to admire the pristine paintwork overhead. And if the blog goes quiet from here you'll know why.