March 7, 2012
Why more people will stay at home and holiday in the UK this year
I know I'm biased and perhaps overly positive due to living in Eastbourne. Eastbourne is truly a fabulous holiday resort – we're the sunniest place in the UK, officially recognised as the UK's most holiday-friendly destination, we have Beachy Head and the South Downs National Park on our doorstep and I've found that once people discover the town they return again and again.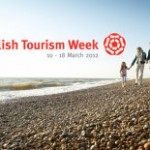 But why are more people staying in the UK  generally?
1. People are looking for value for money
Given the current economic climate, with more spending cuts to be announced in the budget next week and tax increases coming our way, people are looking to make the most of every pound they spend.
People also recognise that the pound doesn't buy what it did abroad a few years back and that they'll be walloped by hidden charges when they book their flight tickets.
2. People are becoming weary of international travel
Traveling abroad, especially as a family, can be pretty draining, what with the effort of getting to the airport or port, potential delays and strikes scheduled to cause maximum pain at the worst possible times.
Within just two hours travel pretty much everyone in the UK can find themselves sitting sipping cappuccinos in a beach-side cafe, but if you're looking at international travel you will barely have passed security and check-in by now.
3. There is a celebration for all things British at the moment.
Prince Harry is hot news right now, outrunning Usain Bolt and generally wooing the whole Caribbean. If you walk down a supermarket aisle you'll be struck by the number of Union Flags waving at you from the packaging, highlighting their British ingredients.
People have started to recognise what we have here in Britain. I was watching Britain's Secret Seas recently and I was genuinely spellbound.
4. British accommodation has really upped its game
It can't afford not to. Trip Advisor will soon expose any weak establishments and who risks parting with cash these days and books a hotel or B&B without checking out the reviews?
So what does all this mean in reality?
Here at The Guesthouse East, bookings are up 20% year-on-year (we're particularly well placed to enjoy the growing trend from families being child and baby-friendly with our self catering accommodation, as well as offering B&B).
We also established Exclusively Eastbourne Holiday Homes, a holiday accommodation rental site, 2 years back and will soon have our 10th property on our books, doubling in a year, proving that high-quality holiday lets in Eastbourne have real appeal.
Of course this is 2012, Olympic year, so a one-off opportunity to grandstand everything that is great in Great Britain.
Sure, we might not be able to guarantee 30 degree heat, but also consider the total package on offer, the variety, value and relative ease and perhaps you might consider that staycation yourself.