August 30, 2012
Exploring Bexhill On Sea
Full house here at the guest house in Eastbourne this week and since there were no check-ins on Sunday and it was a cloudless sky I rallied the clan for some impromptu exploring – with Bexhill in our sights.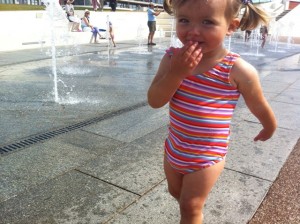 We made the leap from corporate life in London to the south coast almost exactly three years ago but somehow have never managed the 12 miles east from Eastbourne to Bexhill.
Given loads of our guests ask for advice on day trips from Eastbourne and things to do in Sussex I thought I'd better swot up on this little gem and bag an ice cream in the process.
Bexhill is the third best seaside town to live in, apparently, according to a recent survey. Must have something to do with the fab De La Warr Pavillion, based right on the seafront – a Grade I-listed modernist centre for contemporary arts.
The Stangers have firmly embraced the Olympic spirit so I thought it fitting to have a wander around Everything Flows: The art of getting in the zone – moving image artworks on the topic of sporting excellence.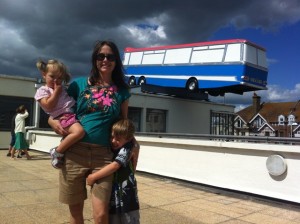 Frankly, it took dedication and parental determination worthy of a medal to shift the kids from the splishy-splashy fountains directly outside, but it's definitely worth a look.
And it would be rude not to head onto the roof terrace to take in Richard Wilson's Hang on a minute lads, I've got a great idea…' – capturing the iconic final scene from the Italian Job, with a full-size coach hanging precariously off the top of the building, rocking in the wind.
The cafe is also worth a dabble – not as cheap as the more traditional caffs on the local high street, but think of it as the equivalent of an entry ticket and the mushroom and tarragon soup then comes as free!
Unfortunately our kids' attention span ran out after their all-too-brief induction to the arts so back to more traditional fayre – Egerton Park, just a few minutes walk from the Pavillion, compete with boating lake and playground. Sadly also complete with half the children of the town given it was a bank holiday weekend, so after 30 frenetic minutes, a couple of ice pops and a 99 it was round up time and back to the wagon.
No idea where we'll venture next as the next chapter to The Hoteliers Guide to the South Coast. All suggestions  to book@theguesthouseeast.co.uk