October 24, 2013
Cross country running around East Sussex. And other autumnal delights!
Surely the annual cross-country run was everyone's most dreaded day in the school calendar. Early November, frost-bite-inducing and a thoroughly all-round miserable experience, exacerbated by sadistic games teachers barking orders in badly fitting shell suits.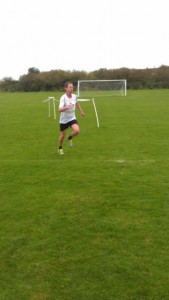 Funny how I now seem to have embraced this, er, invigorating activity.
After dabbling in a couple of marathons in recent years I've come to the conclusion that I can't hack the three hour training runs, fighting horizontal rain and generally getting lost in a forest.
So I'm now a full blown member of Meads Runners (Male Club Captain dontchaknow!), complete with team strip and a penchant for early morning starts and 5 mile races around the glorious East Sussex countryside.
(Only) 40 minutes of running through horizontal rain, whilst being applauded by helpful marshalls, striving to stay ahead of an enthusiastic crowd of lycra devotees, is actually rather enjoyable. Or it is through a haze of camaraderie in a pub near the finish point.
So, it was 3 laps of treacherous conditions around Whitbread Hollow below Beachy Head, for my inaugural race last weekend and a creditable 35 minutes and 16 seconds to gain 44th place out of over 200.
Next up is a 10k at Beachy Head this weekend and then back to the 5 milers once a month. Phew!
If you fancy a run-out (either on a Wednesday night for interval training with Meads Runners or once a month on Sunday morning) let me know.
We always accommodate runners here at The Guesthouse East for the Beachy Head Marathon and Coastal Series runs so expect to be well looked after.