April 20, 2015
Keeping the children entertained on holiday – sun, rain or snow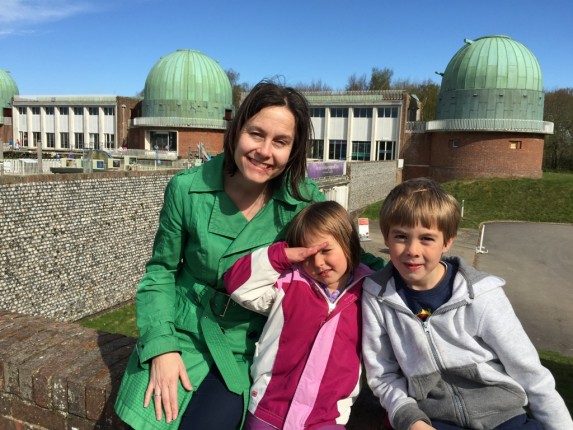 Clearly, as both bed and breakfast owners and parents of young children, it helps that we can sample all the activities on offer around Eastbourne and East Sussex. One of the perks of the job. Like the limitless supply of local bangers. It allows us to confidently recommend places for you to visit and keep the family entertained and happy.
Herstmonceux Observatory, set amongst the domes and telescopes of this world famous centre, is only a quick 20-minute drive from the guesthouse, is all about hands-on experiments and discovery and a proves a real delight for children of all ages – ours (pictured) are now 4 and 7 and were still enthusiastic to stay after 3 hours yesterday of bridge-building, earthquake-sampling and electric shocks. There's a good mix of outside adventure and indoor activities so well worth a visit throughout the year.
My personal benchmark is always the cafe – well, what's an afternoon out without coffee and cake? – and this had one set in a former laboratory and the flapjacks and chocolate cake were homemade which fueled me for the rest of the afternoon.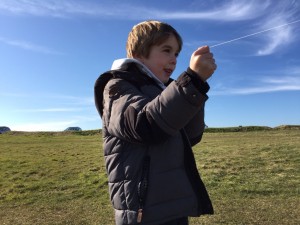 Don't forget to bring a kite with you on any stay at our B&B in Eastbourne – a visit to Beachy Head and the Seven Sisters should always be on any  visitor's must-see list, with or without said kite. The views are truly spectacular, the skies often blue and you'll inevitably feel invigorated and refreshed after a stroll. Essential cake is available at the Beachy Head pub or further along the clifftop at the National Trust cafe at Birling Gap.
Given that sea is warming up nicely it won't be too long before we hit the rock pools again armed with a crab net and a sense of adventure.
We've stacks of other ideas for young and old so just let us know what your interests are and we can point you in the right direction.
I hope we see you soon 🙂