October 24, 2015
Bumper year, burnt remains and Beachy Head Marathon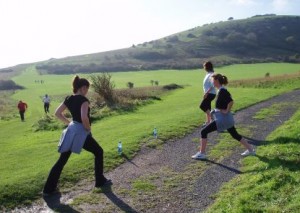 The on-going mild temperatures are teasing me with the tantalising suggestion that maybe, just maybe, there will be a (very) late Indian summer, with the chance for one last sea swim under fluffy clouds or a kayak jaunt to Beachy Head in pursuit of the remaining sea bass. Here's hoping…
Talking of Beachy Head, we've  some familiar faces with us this weekend for the marathon (one of the MUST do races according to Runners World, as if you needed reminding).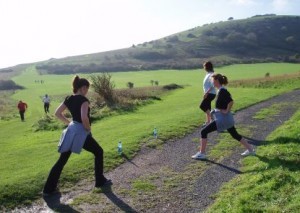 The atmosphere was quite jolly around the start point this morning as I dropped off the guys staying with us – the usual mixture of excitement, fear and anticipation. I had to chuckle driving back, watching the approaching runners warming up at Helen Gardens or running the mile or so up to the start line. Frankly I'd save myself for the 26.2 miles of bumps and inclines of the course itself – there's plenty of time to warm up during that, not to mention the near-verticle hill-start. Is that the voice of experience or the approaching cloud of 40-something cynicism??
There is also a whiff of cynicism regarding the apparent purchase of Eastbourne pier by our neighbour and fellow hotelier, but we can only hope that promises of investment and refurbishment are fulfilled by the self-appointed 'Daddy of the pier', and not simply restricted to gold-painted railings doing little to enrich the burnt shell of our town's iconic structure. We genuinely wish him and the team well.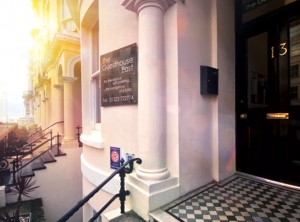 It's been busiest year since we started here at the guesthouse back in 2009 (has it really been over 6 years?!) and I now feel a growing confidence around the town – the dynamics seem positive with more young families re-locating from the home counties having clocked the fresh sea air, surrounding natural beauty and good local schools, not to mention the fact the sale of a 3-bed terrace secures them a large family home with views of the South Downs.
The Arndale Centre is about to enjoy a £70-million pound refurbishment, with a multi-screen theatre, new restaurants and posh brands heading into town so the wind is certainly pushing the town in the right direction.
Our returning marathon runners will soon be back through our doors, with rosy cheeks, medals and a undeniable sense of achievement. Fingers crossed Eastbourne retains this cloud of positivity 🙂